PKC ...Come Play With Us
Our club operates from May 1st to September 30th at the dedicated outdoor courts at Parkinson Recreation Centre. We play on 12 pickleball courts - all individually fenced.
---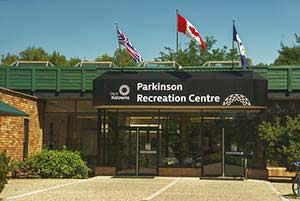 PRC is a multi sport complex offering outdoor and indoor recreation activities. Outdoors when facing the building - our pickleball courts are located on the right side (East). Inside PRC are 3 lined pickleball courts in the gymnasium with programs running fall, winter and spring. On the left side of PRC (West) is the Parkinson Activity Centre with 2 lined indoor pickleball courts. Programs run all year round.