Links to more Pickleball Information
Please visit: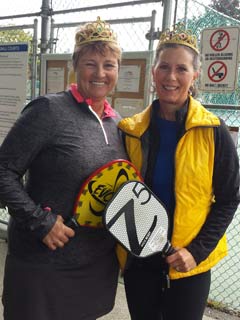 ---
New Here? Get All The Answers You're Looking For
Is it easy to play?
Yes, Pickleball is a game that you can quickly learn. It's a combination of Tennis, Badminton and Table Tennis. The court is the same size as Badminton, the paddle you use is a little larger than Table Tennis and the net height is similar to Tennis except that it drops from 36" to 34" in the centre but the sides are still 36" high.
What age groups play?
We like to say from 9 to 90. There are some children who play the game earlier, it really depends on the individuals hand-eye co-ordination and yes, there are players that are over 90 years of age. Pickleball Kelowna's day-to-day reserved club bookings are available to all PKC Members.
What do I wear to play?
Footwear
Pickleball is a very inexpensive sport to play. Court shoes, cross-trainers or tennis shoes are recommended over running shoes as they allow for side-to side movements, jumping and quick start and stops. Ankle injuries can occur with some running shoes due to the heel being elevated. Without side support a wrong step can mean a twisted ankle or worse. Pickleball Kelowna requires proper footwear to play on our courts during Club times.
Apparel
Wear something comfortable that allows you to move easily. Many sports clothes today offer dry-wicking and it can be a blessing when playing on hot summer days. Hats, visors, headbands - whatever works for you. Sunglasses and sunscreen always recommended. Something a simple as a t-shirt and shorts will work. A light jacket for when the clouds move in. Once you get playing regularly you will find you are moving around quite a bit and will want to at least be able to peel away a layer if you get too hot.
Where do I park when I get there?
Please do NOT park in the small parking lot between the main building - Parkinson Rec Centre and the courts. These are reserved for personnel 24 hr/7 days a week and you will be towed.
Park in the large main parking area between the courts and Highway 97. The short walk will help get your legs warmed up and ready to play!
Why can't I play with certain paddles?
Pickleball Kelowna prides itself on being a member of Pickleball Canada and an affiliate of USAPA. With that we support the International Federation of Pickleball (IFP) who governs and guides the rules for Pickleball. Equipment is tested on a regular basis to ensure safety and fairness to all players.
When you play during Club time with Pickleball Kelowna, players must play with approved paddles as set out in the rules and guidelines of IFP. If you are considering purchasing a paddle - PLEASE make sure it is listed for approval with IFP. You can view this list by visiting IF Pickleball.org
---
Pickleball Kelowna