Newsletter June 2020 - Pickleball News Update - June 05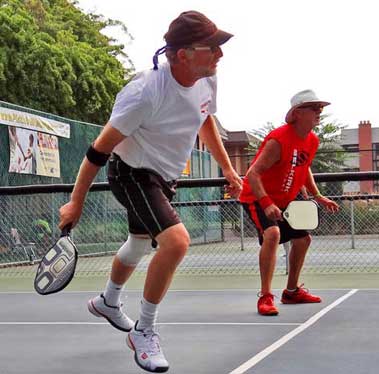 Hi all.
This Pickleball Season is really gaining some momentum. Today we have several topics that you should know about.
1. Opportunity Knocks is all about the biggest best Pickleball Facility possibly in Canada right close to us in Vernon.
2. Pickleball Lessons are now available at the Anders Court Facility in Lakeview Heights
3. Where are there open courts to play pickleball?
4. An update on our courts and the online reservation system.
1. Opportunity Knocks!
Hello Okanagan Pickleball Players,
News Flash! The Vernon Pickleball Association (VPA) has embarked on a truly exciting opportunity. We are going to "Raise the Roof" over our 12 wonderful pickleball courts. We are going to create a year-round pickleball facility that will be the envy of the nation.
With this initial vision, the courts were engineered and built with a roof in mind. The courts are ready to accept a roof and the associated heating, ventilation, and lighting. It will be a wonderful (and very large) pickleball complex.
On May 24th, the club launched a creative funding opportunity. Pledges have already surpassed $500,000 from within the membership! Yes, that is not a typo; we have passed $500,000 in 9 days. The goal of $1.2 million is within our grasp.
We (the collective Okanagan pickleball community) can be playing indoor pickleball in a world-class facility by Christmas!! That's Christmas 2020! Imagine the fun and challenging sessions we can create when operating a 12 court indoor dedicated PB facility - winter tournaments, skill-based inter-club leagues, skill-focused clinics, etc. We have an amazing opportunity to enhance Okanagan pickleball and enhance our wonderful social connections.
You are invited to participate in this opportunity. We have creative ways that you can invest in your enhanced PB experience, particularly your winter/indoor PB experience. How can you be part of what will undoubtedly become an Okanagan PB asset?
Here is a link to a recording of our May 22 virtual Town Hall presentation:
Click here for Town Hall Video Recording
Click here for a PDF presentation.
If you are enthused by this opportunity, please contact Rob Irving, robertairving@gmail.com or 250-307-0972 to learn more.
Thank you for your interest,
Rob Irving
VPA President
2. Pickleball Lessons
Lessons with Roberta Meakin, a 5.0 Tournament Rated Player with 8+ years of experience and a member of Pickleball Coaching International. Choose either Private or Group Lessons.
Private Lessons for 1-4 players in West Kelowna at the Anders Courts in Lakeview. Contact Roberta mmballet@hotmail.com or check out her FB page: Roberta Meakin, Pickleball Instructor
Group lessons, starting in July on Tuesdays for Learn to Play, Novice and Intermediate levels. Contact West Kelowna Recreation online with "Activenet" or by phone: 778-797-8800. Registration begins on June 8th.
3. Where are there public open courts to play pickleball?
Check out the 12 courts in West Kelowna near Boucherie School in the afternoons, the 4 courts on Anders Road in Lakeview Heights and the 4 courts in Rutland behind the Rutland Activity Centre. All are open play, no online reservations.
Also, June 8th, West Kelowna Club opens.
4. Online reservation update:
I was asked if there was priority booking within the Online Reservation System. No, there is not priority booking available, there are, however, 485 players on the player list.
I was asked why are there empty courts during the day at Parkinson Pickleball Courts. I have looked into many of them and they are empty because whoever had booked them had to cancel them. We thank each and every one of you who have canceled as soon as they realized they were not going to be able to fulfill their commitment of being there to use them. This is a great opportunity for others who want to play to pick up those empty courts and make a quick reservation. So, if you want to play, but were not able to get a reservation, check the online status every now and then, you will find an empty court waiting for you to reserve.
Last Thing, Please, We all must continue to:
"PLEASE PRACTICE PHYSICAL DISTANCING AND PLEASE DO NOT ARRIVE EARLY AND PLEASE LEAVE QUICKLY'
Pickle on.
Dale